Buffalo Tofu Sandwich with Cayenne Aioli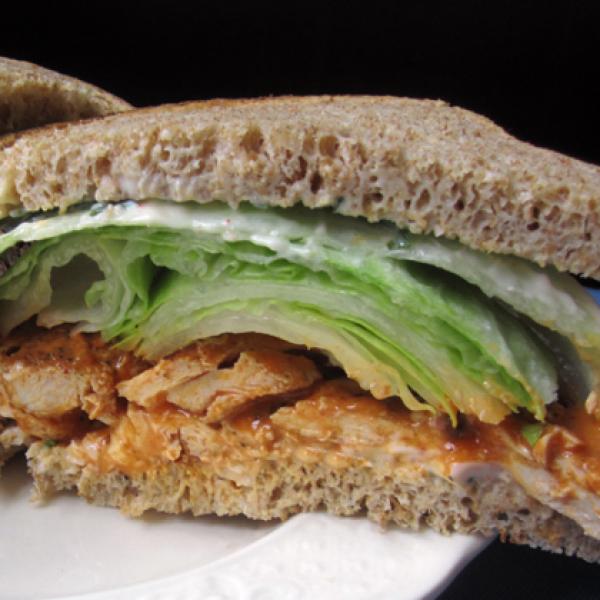 Serves: 2
Ingredients:
1 cup vegan mayonnaise
2 tablespoons diced chives
2 cloves garlic, minced
1 tablespoon freshly squeezed lemon juice
1/2 teaspoon cayenne
1 package (12.3 ounces) firm tofu, drained
1 tablespoon garlic powder
Salt and pepper to taste
1/2 cup vegan margarine
1/2 cup hot sauce
4 slices bread (or 2 rolls), toasted
Iceberg lettuce
Directions:
1. Preheat oven to 400 degrees. Make aioli by whisking together mayonnaise, chives, garlic, lemon juice, and cayenne in a bowl until well blended. Refrigerate until needed.
2. Cut tofu into thirds long-ways, then cut each third into one-inch wide strips on the short side. Place on a non-stick baking sheet and sprinkle with garlic powder, salt, and pepper. Bake for 15 minutes, flip tofu, and bake another 15 minutes.
3. In a medium-sized bowl, mix together vegan margarine and hot sauce. Add cooked tofu, cover bowl, and shake until tofu is well coated. Refrigerate until ready to serve.
4. To plate, spread aioli on each slice of bread. Layer tofu on bottom bread slice, cover with lettuce, and top with second slice of bread.