Portobello Cheese "Steak" Wrap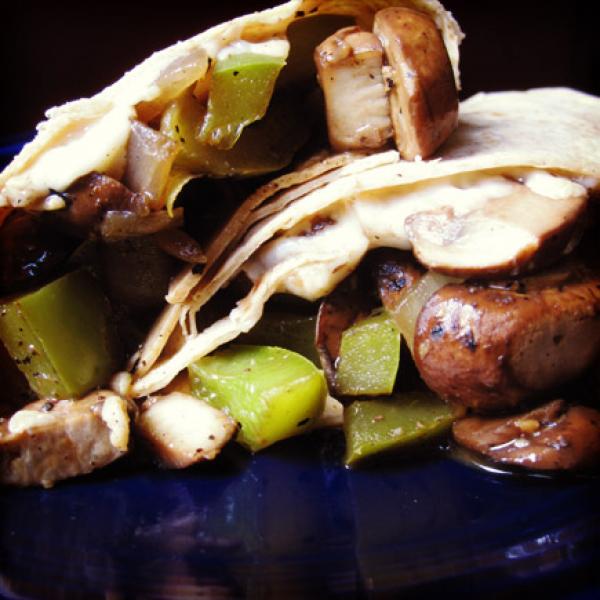 Serves: 4
Ingredients:
1 cup vegetable broth, divided
1 clove garlic, minced
1 cup chopped onions
1 small green pepper, chopped
3 cups sliced portobello mushrooms
Salt
Pepper
1 teaspoon vegan Worcestershire sauce
1 tablespoon barbeque sauce
1 tablespoon apple cider vinegar
4 tortillas
2 to 4 ounces vegan mozzarella
Directions:
1. Pour 1/2 cup vegetable broth into a large skillet over medium-high heat. Add garlic and onions and sauté for 5 minutes, adding vegetable broth as needed. Stir in green pepper and sauté for 5 more minutes. Remove peppers and onions from skillet and set aside.
2. Reduce heat to medium, and add mushrooms, remaining vegetable broth, and salt and pepper to taste. Sauté for another 10 minutes. Add back peppers and onions, and stir together. Add Worcestershire sauce, barbeque sauce, and apple cider vinegar. Stir for 2 to 3 minutes.
3. Divide tortillas among 4 plates and sprinkle vegan mozzarella on each wrap. Top with mushroom, onion, and pepper mixture. Roll up and serve.
Nutrition score per serving: 281 calories, 10.5g fat (1g saturated), 39g carbs, 9g protein, 7g fiber