Dolmas (Stuffed Cabbage)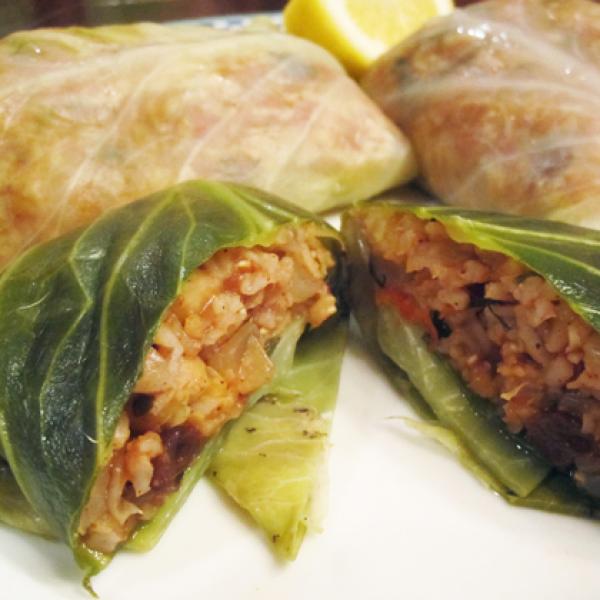 When people hear "dolmas," usually stuffed grape leaves come to mind, but these leaves can be hard to find. (I looked in five different grocery stores and markets to make this recipe, and no luck!) Cabbage leaves work just as well. While this dish is time-intensive, the result is a showstopper. Makes 12 to 18 stuffed cabbage leaves
Ingredients:
1 head green cabbage
2 cups vegetable broth
1 cup brown basmati rice
Olive oil
2 yellow onions, diced
2 cups garbanzo beans
1 cup chopped tomatoes, with juice
2 Tbsp chopped fresh dill
2 Tbsp chopped fresh parsley
1/2 tsp cinnamon
Pinch paprika
Pinch nutmeg
Salt, to taste
2-3 Tbsp raisins
1 tsp agave
Juice of 2 lemons
Directions: 
1. Boil cabbage in water 4 minutes, remove, and set aside
2. Add stock to a pot over high heat and boil. Add rice, reduce to simmer, and cover for 20 minutes.
3. Meanwhile, lightly mist a heavy pan with olive oil, heat to medium, add onions. Sauté until caramelized, then add garbanzo beans and cook another 10 minutes on low heat, stirring frequently and adding vegetable stock if liquid is needed. Add cooked rice with any stock remaining, tomatoes and juice from tomatoes, stir, and cook another 10 minutes at medium, or until liquid is absorbed. Reduce heat to low, add remaining ingredients and 1 cup water, and mix well. Cover and cook 7 to 10 minutes. Remove from heat and cool.
4. On a large plate, spread 1 large cabbage leaf, place 2 to 3 tbsp of filling, and fold the cabbage leaf around the filling (top, side, bottom, side), making a rectangle. Repeat with remaining filling.
5. Line the bottom of a heavy, large pan with leftover cabbage leaves and place leaves on top, lining them up and layering as necessary. Pour a mixture of water, pinch of salt, and the juice of 1 lemon over the dolmas to cover them, then, place a heavy plate (that won't break from heat) on top of the stuffed leaves, cover, and cook over low for 45 minutes. Check the level of liquid occasionally, and add more water if it all gets absorbed. Remove from heat and serve warm, using a slotted spoon.