Chickpea Veggie Burger & Sweet Potato Fries with Tahini Sauce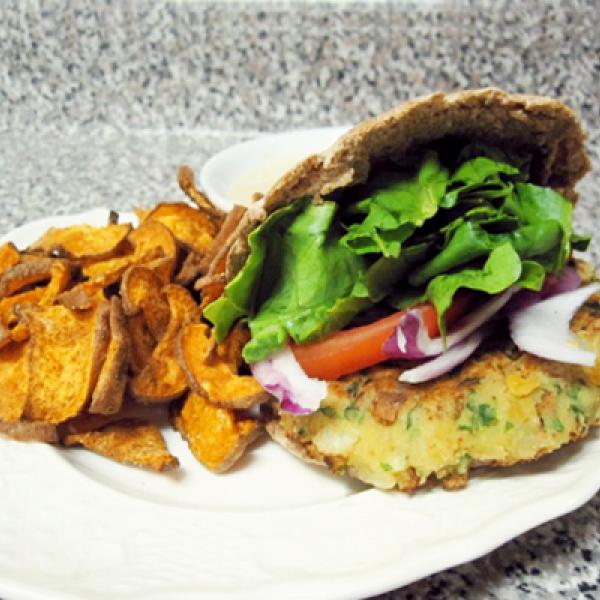 Next time you're craving a burger and fries, enjoy this meal without guilt!
Ingredients (Makes 4 servings):
For the tahini sauce:
1 cup hot water
1/4 cup tahini (sesame-seed paste)
3 Tbsp fresh lemon juice
Dash of salt
2 garlic cloves, minced
For the chickpea burgers:
1 (15.5oz) can of chickpeas (garbanzo beans), drained and rinsed
1/2 cup chopped red onion
1/2 cup chopped fresh parsley
1 Tbsp fresh lemon juice
1 tsp ground cumin
1 tsp ground coriander
1/2 tsp salt
2 garlic cloves, minced
1/4 cup dry breadcrumbs, divided
Finishing touches:
4 mini whole-wheat pitas
Chopped romaine lettuce
1 tomato, sliced
1/2 cup sliced red onion
Directions: To prepare sauce, combine all sauce ingredients into a bowl and beat until smooth. To prepare the patties, combine all of the patty ingredients except for the breadcrumbs in a food processor and mix until smooth, scraping the sides of the bowl as needed. Transfer that bean mixture into a large bowl; stir in 1/4 cup breadcrumbs. Divide the bean mixture into four equal portions, shaping each into a patty. Place remaining 1/4 cup breadcrumbs in a shallow dish. Dredge patties in breadcrumbs.
Heat 2 teaspoons vegan margarine in a large nonstick skillet over medium-high heat. Add patties to pan; cook 3 minutes on each side or until browned.
Lightly toast the pitas. Fill each pita with lettuce, tomato, onion, and a patty. Drizzle with tahini sauce (or serve sauce on side to dip.)
To prepare sweet potato fries, heat broiler, thinly slice one small sweet potato per person (so four for four servings) into chip like pieces, lay flat on a cookie sheet, lightly salt, and then broil 3 minutes on each side or until lightly crisped. Serve the sweet potato fries along with the burger and enjoy!