Power of Meditation Summit – FREE!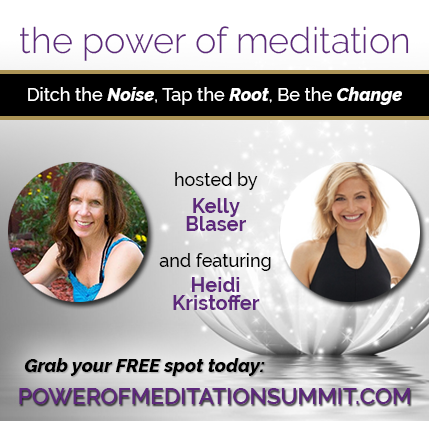 Honored to have been included by meditation mama, psychotherapist, and yoga teacher, Kelly Blaser, to speak at her Power of Meditation Summit.
In a time when the world clearly needs peace, I'd like to extend to you the opportunity to listen in. Regardless of whether you are merely curious about meditation, or are completely on board to do the inner work to maintain center, and strengthen your capacity to create peace in the world around you, join us!
We all know that there is no magic pill that can take away the struggles of the human experience. But meditation practice allows us see differently – beyond the bounds of normal, conditioned perception – even in tumultuous times. Check it out, It's FREE!
Beginning December 7th, you'll get exclusive access to an all expert panel as we equip you with invaluable skills and strategies which will help you:
*heal the body and avoid unnecessary pain, while softening your aversion to pain that cannot be avoided
*  see yourself more clearly and heal your relationships
*  re-frame fear and anxiety and move through life with greater ease
*  release perfectionism and let go of neuroses around comparing yourself to others
*  open your heart up to your interconnectedness with all sentient beings
*  from a place of deeper awareness, send healing to the planet
*  become a change agent who will not burn out — because you don't take things personally
*  focus your mind, drop the drama, and enhance your performance
*  And more!
All in?
Want to know my jedi mind tricks for dealing with pain?
 ;) Reserve your "virtual seat" by going
here
!
Don't miss this opportunity up to finally FEEL what it means to live in the present moment. I know it can seem elusive, but, if you are looking for another way in, *someone* on the panel of 21+ will connect to you!
Hope you enjoy the Power of Meditation Summit!  Feel free to comment below with any thoughts.
Xoxo,
Heidi