Tempeh Taco Salad with Guacamole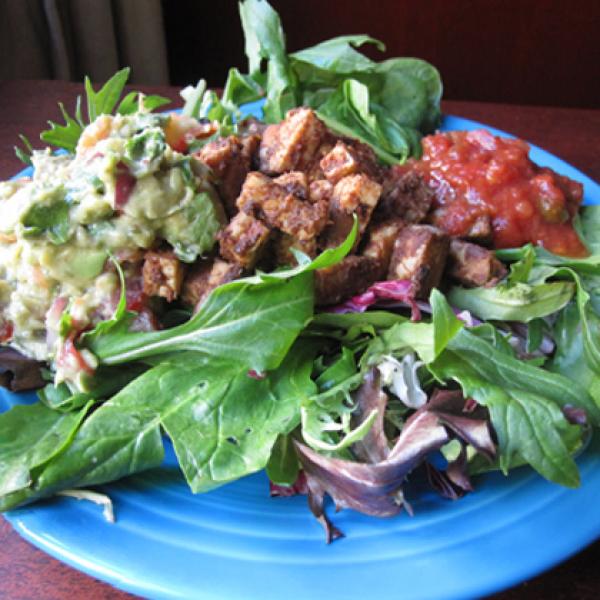 Serves: 1
Ingredients:
For guacamole:
1 ripe avocado, diced and lightly mashed with a fork
1/2 small tomato, diced
2 tablespoons diced red onion
1 clove garlic, minced
2 tablespoons diced cilantro
1/2 tablespoon lime juice
Salt
Pepper
For tempeh:
1/4 cup mole sauce or vegetable broth (plus extra, as needed)
1/4 cup diced tempeh
1 teaspoon chili powder
Salt
Pepper
3 cups lettuce or mixed greens of choice
Salsa (optional)
Directions:
1. Prepare guacamole by mashing together avocado, tomato, onion, garlic, cilantro, lime, and salt and pepper to taste; set aside.
2. Place a medium-sized saucepan over medium-high heat and coat with mole sauce or vegetable broth. Season tempeh with chili powder, salt, and pepper. Add to pan and cook for about 5 minutes, flipping over once and adding more liquid as needed. Plate lettuce and top with tempeh, salsa, and guacamole.
Nutrition score per serving: 420 calories, 33g fat (5g saturated), 32g carbs, 13g protein, 17.5g fiber