Squash and Black Bean Quesadillas with Guacamole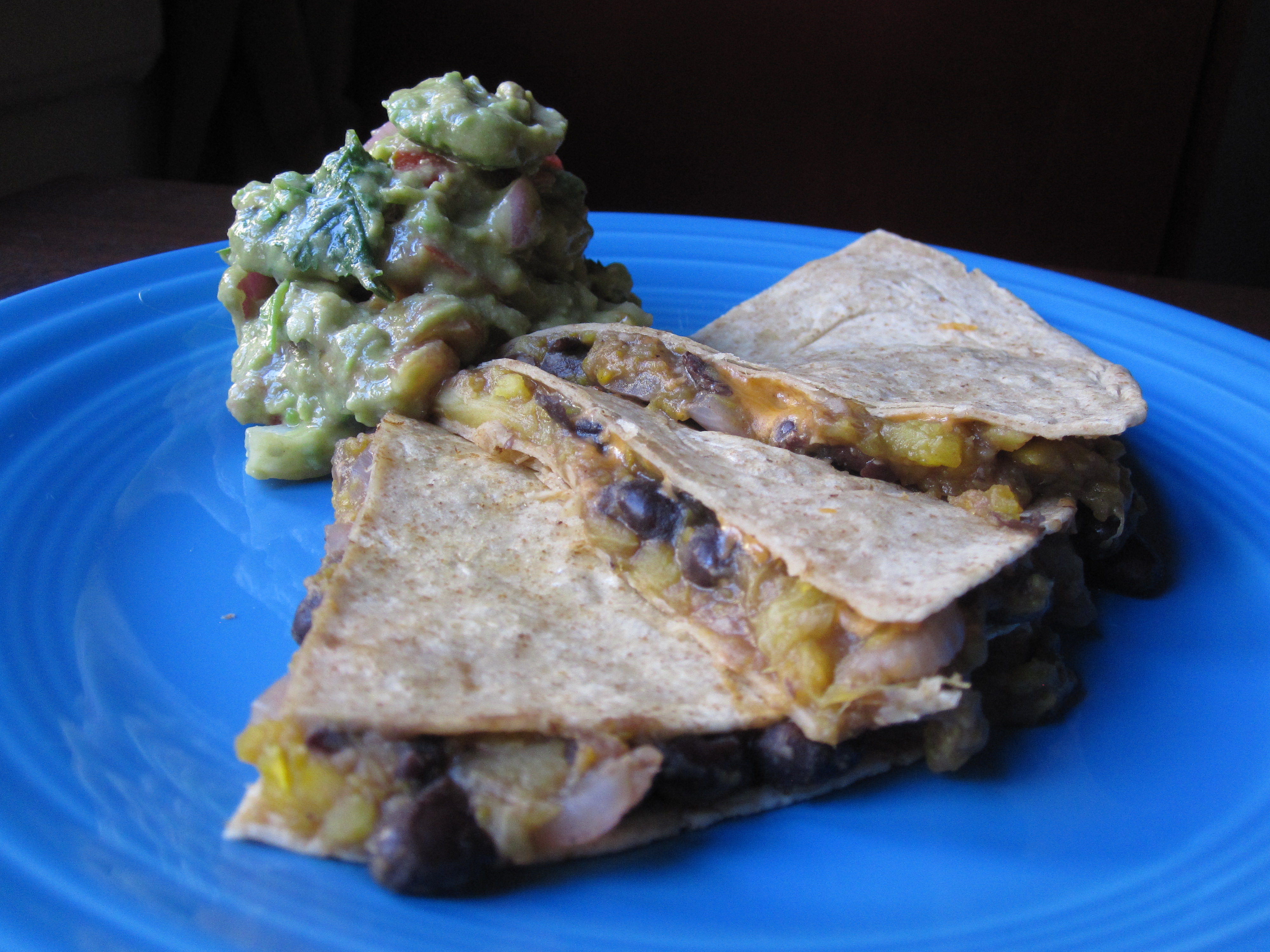 Serves: 2
Ingredients:
For guacamole:
1 ripe avocado, diced and lightly mashed with a fork
1/2 small tomato, diced
2 tablespoons diced red onion
1 clove garlic, minced
2 tablespoons diced cilantro
1/2 tablespoon lime juice
Salt
Pepper
For quesadillas:
2 cups chopped butternut squash
1 tablespoon olive oil
1/4 cup diced onion
1 clove garlic, minced
1 cup black beans, rinsed and drained
1/2 teaspoon cumin
1 dash cayenne
2 tortillas
1 tablespoon finely grated vegan cheese
Directions:
1. Prepare guacamole by mashing together avocado, tomato, onion, garlic, cilantro, lime, and salt and pepper to taste; set aside.
2. Steam butternut squash for 12 minutes. Meanwhile heat olive oil over medium heat in a large pan and add onion and garlic. Sauté for 2 to 3 minutes until onion is slightly translucent. Reduce heat to low and add beans, squash, cumin, and cayenne, and mash lightly with a fork. Transfer bean and squash mixture to a bowl.
3. Place 1 tortilla in the same pan and heat for 30 seconds on low. Add half the bean-squash mixture, sprinkle with 1/2 tablespoon cheese, and fold tortilla over to make a semi-circle. Repeat with second tortilla. Cut tortillas into thirds and serve with guacamole.
Nutrition score per serving: 358 calories, 22g fat (3g saturated), 40g carbs, 6g protein, 12g fiber