Spicy Peanut Sesame Noodles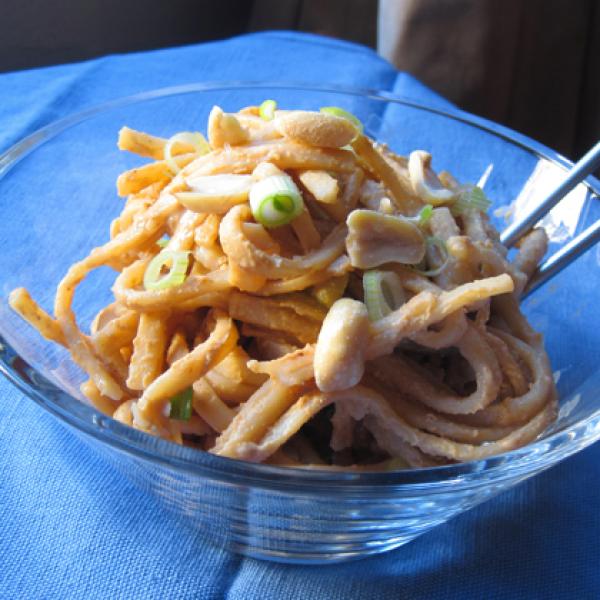 Key Ingredients: Peanut butter is high in healthy monounsaturated fats. One study found that eating a MUFA-rich diet may help decrease belly fat more than a carb-heavy diet can. And new research out of Columbia University suggests that ginger may be able to reduce feelings of hunger and rev up metabolism.
Serves: 4
Ingredients:
1/4 cup peanut butter
1 tablespoon soy sauce
1 tablespoon agave or sweetener of choice
2 tablespoons water
1 clove garlic, minced
1 teaspoon minced ginger
1/2 tablespoon apple cider vinegar (or rice wine vinegar)
1 teaspoon sesame oil
1/2 teaspoon sriracha (or other red chili sauce)
4 ounces soba noodles
3/4 cup julienned cucumber
1 scallion, diced
1/4 cup peanuts, for garnish (optional)
1/2 scallion, diced, for garnish (optional)
Directions:
Combine first nine ingredients (peanut butter through sriracha) to form a sauce, mixing well until thoroughly blended and smooth. Cook soba noodles according to package directions and cover in cold water as soon as removed from heat. Once cool (about 20 to 30 seconds), drain noodles and toss with sauce, scallions, and cucumber. Top with peanuts and additional scallions, if desired.