Southwestern Salad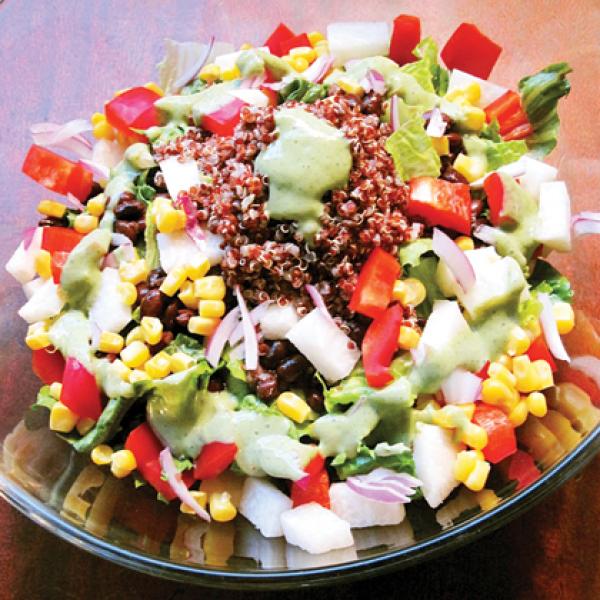 This salad is perfect for summer—fresh, light, and full of protein, thanks to the quinoa, black beans, vegetables, and tofu from the dressing. Want to beef it up even more? Just add tempeh! Fun fact: Quinoa is one of the most protein-rich foods you can eat, and it's a complete protein, meaning it contains all nine essential amino acids.
Ingredients (Makes 1 serving):
2-4 cups chopped romaine lettuce or leafy green of choice
1 serving red quinoa cooked and chilled (1/4 cup dry)
½ cup black beans
½ cup corn
½ cup jicama, sliced
½ cup red pepper, chopped
1 small tomato, chopped
2 Tbsp red onion, diced
Optional: barbeque tempeh or tempeh bacon and/or avocado slices and/or pumpkin seeds
For the dressing (use as much as you like and save the rest for later!):
1/4 of a 10oz container of soft silken tofu, drained
1/4 cup fresh lime juice
1 tsp minced garlic
½ tsp mustard
½ tsp cider vinegar
1/4 cup finely chopped fresh cilantro
Coarse salt and ground pepper
Directions: Put all of the salad ingredients in a bowl, blend up the dressing ingredients in a food processor, use it to top the salad, and enjoy!