Popeye Berry Oat Square Recipe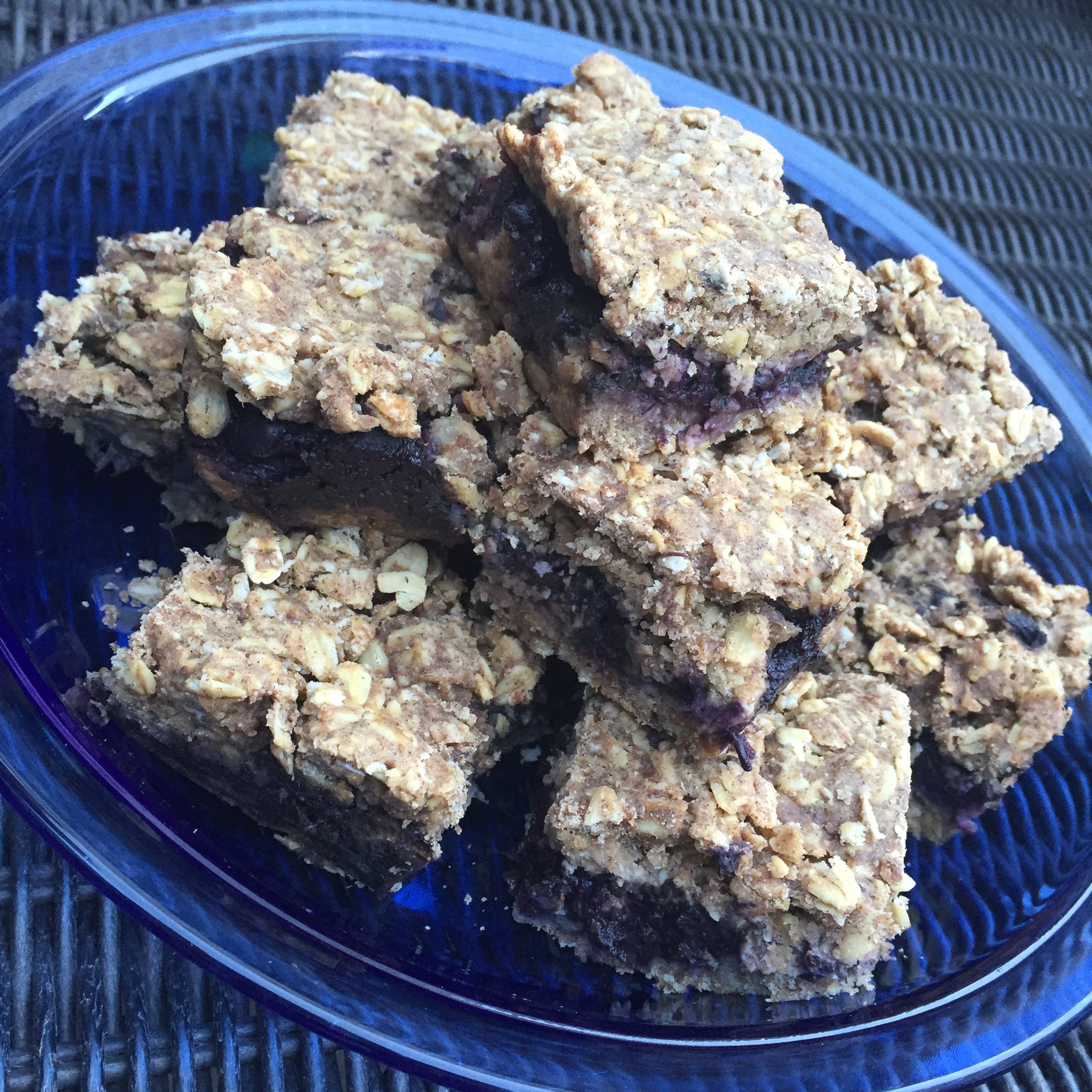 I LOVE this recipe.  An amazingly talented mom I know, Karen Ortner, makes these, allergen free, often when food is asked for at family friendly gatherings.  Adults and children alike devour these treats!  She shared with me that her recipe was from Jessica Seinfeld's Deceptively Delicious, so I ordered that from Amazon seconds after tasting them!!  Wanting to make them even healthier (I can't help it, I simply will not make things for my kiddos with sugar added), I tweaked the recipe, and came up with this one.  Enjoy, it's a crowd pleaser, and no one needs to know there is no added sugar!  PandA stamp of approval on these!
INGREDIENTS
2 cups old fashioned oats
¾ cups spelt flour (or GF flour of choice)
1/2 cups oat flour
1 tablespoon ground flax seed
2-3 teaspoons cinnamon (to taste)
1/4 teaspoon baking powder
1/2 teaspoon salt
1/2 cup mashed banana
¼ cup unsweetened apple sauce
2 teaspoons pure vanilla extract
1/2 cup coconut oil, chilled
1 cup no-sugar added berry preserves (I use multi-berry or blueberry from TJs or local farmer's market or this one, which I find  at Whole Foods) + ¼ cup blueberries + 1 tsp of lemon
1/2 cup spinach purée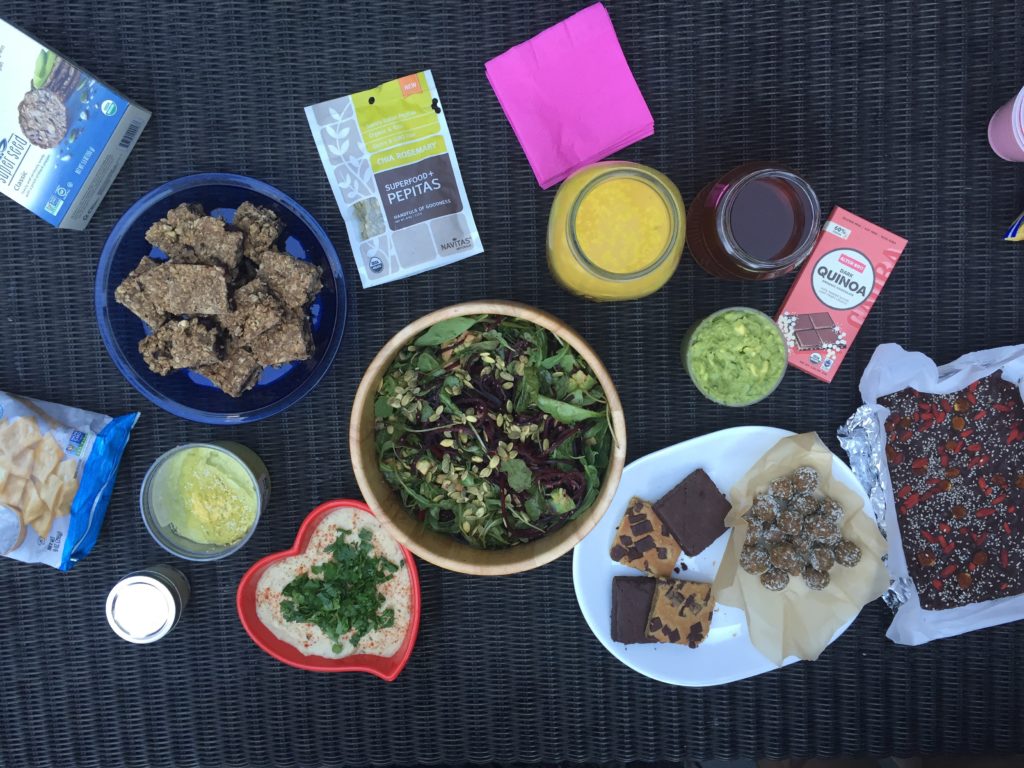 DIRECTIONS
Preheat oven to 375.
Oil an 8″X 8″ baking pan
In a large bowl, combine oats, flour, flax, cinnamon, baking powder and salt and stir to mix well.
Fold the cold oil, vanilla, banana, and apple sauce into dry ingredients with a large fork until the mixture is well mixed .
Set aside about half the oat (and / or hands) mixture; press the rest firmly into the pan. Bake15 minutes.
Mix the blueberry preserves with the spinach puree in a separate bowl, then add blueberries.
Spread blueberry mixture over the partially baked oat layer, then top with reserved oat mixture. Bake 25 minutes (top should be slightly browned). Set the pan on a rack to cool completely before cutting into 16 squares.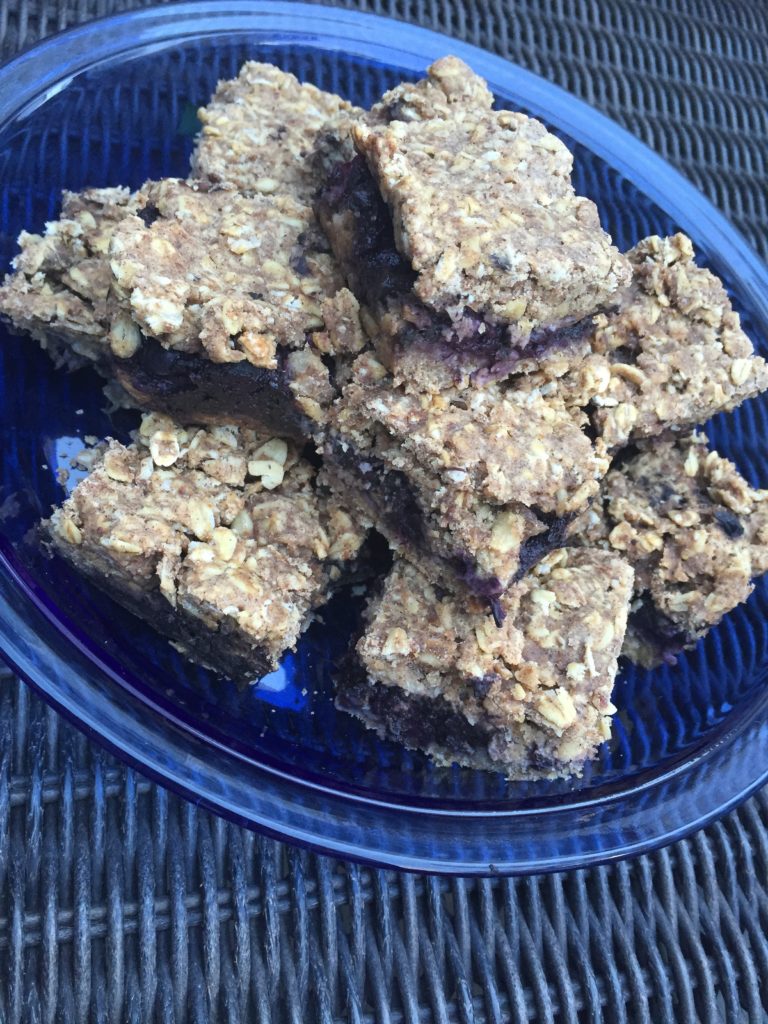 PandA and Goddesses alike love these square.  Hope you enjoy them with as much love as we do!
Xoxo,
Heidi