Mushroom Mole with Polenta and Kale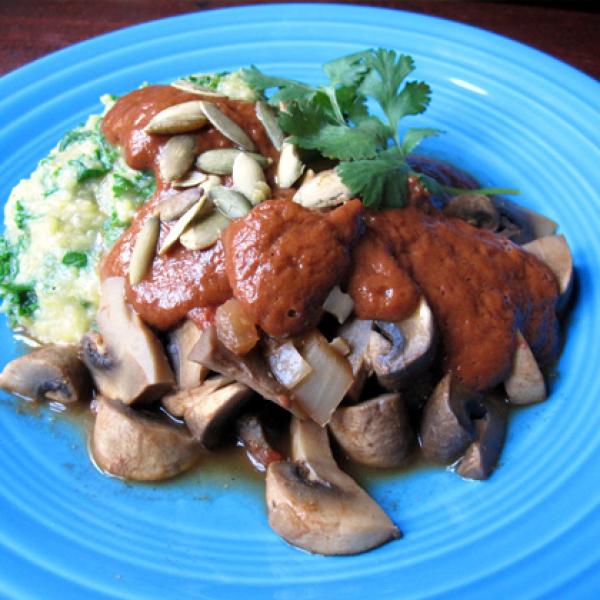 Serves: 2
Ingredients:
1 can (14.5 ounces) diced tomatoes
1 onion, chopped
3 cloves garlic, chopped
3/4 teaspoon ground cayenne
1 teaspoon cumin
1 red bell pepper, chopped
1 1/4 cups vegetable broth
2 tablespoons peanut butter
1 tablespoon raisins
2 tablespoons cocoa powder
1/2 teaspoon ground cinnamon
3 cups sliced mushrooms
3 cups chopped kale
1/2 cup dry polenta
1 tablespoon nutritional yeast
Salt
Pepper
Pumpkin seeds and cilantro, for garnish (optional)
Directions:
1. 

Preheat oven to 350 degrees. 

Pour liquid from tomatoes in a pan over medium heat. Add onion and saute until translucent, about 3 minutes. Add garlic, cayenne, and cumin, and saute for 1 more minute. Add tomatoes, bell pepper, broth, peanut butter, raisins, cocoa powder, and cinnamon. Simmer for 10 minutes. Strain, reserving liquid. Puree mole sauce in a blender until smooth, about 1 minute.
2. In the same pan, add strained liquid and mushrooms and simmer for 10 minutes over medium heat, stirring frequently.
3. Meanwhile steam kale for 3 minutes and prepare polenta according to package directions. Stir kale and nutritional yeast into finished polenta and add salt and pepper to taste.
4. Divide polenta-kale mixture and mushroom mixture between two plates and cover each one with 3/4 cup blended mole sauce. Garnish with pumpkin seeds and cilantro, if desired.
Nutrition score per serving: 425 calories, 11g fat (2.5g saturated), 67g carbs, 22g protein, 11g fiber