Moroccan Quinoa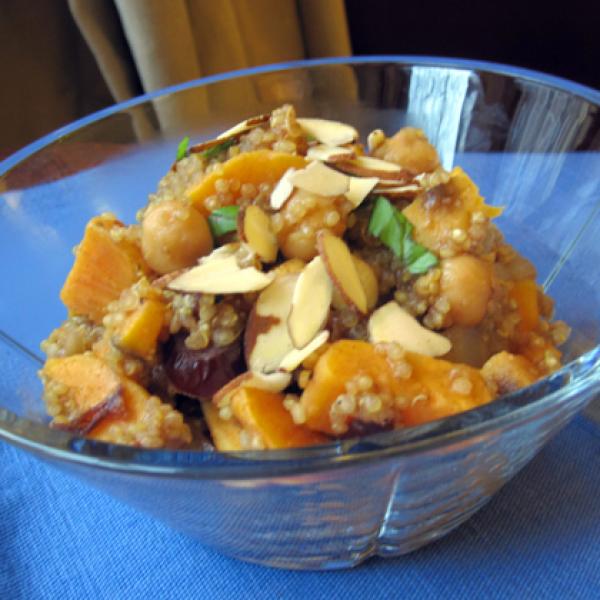 Key Ingredients: High-protein quinoa (the 1/4 cup in a serving of this dinner packs 6 grams) keeps you satisfied for hours, while chickpeas helped adults eat less processed foods and fewer calories overall in a study in the journal Appetite.
Serves: 2
Ingredients:
2 cups vegetable broth
1/4 medium onion, diced
1 clove garlic, minced
1 sweet potato, peeled and cubed
1/2 cup dry quinoa
1/2 cup chickpeas, rinsed and drained
1/4 cup dried cranberries
1/4 cup almonds
1 teaspoon ground cinnamon
Salt and pepper to taste
Fresh parsley, for garnish (optional)
Directions:
Pour about 1/2 inch vegetable broth into a pot and continuing adding broth as needed while cooking vegetables. Add onion and saute for 3 to 5 minutes until translucent. Add garlic and sweet potato and saute for another 3 to 5 minutes. Pour in quinoa and stir to lightly toast. Add remaining vegetable broth, dried cranberries, and chickpeas and bring to a boil. Reduce heat to medium-low and simmer for 15 minutes until potatoes are tender and all liquid is absorbed. Remove from heat and stir in almonds, salt, pepper, and parsley.