Lentil Sloppy Joes with Sweet Potato Fries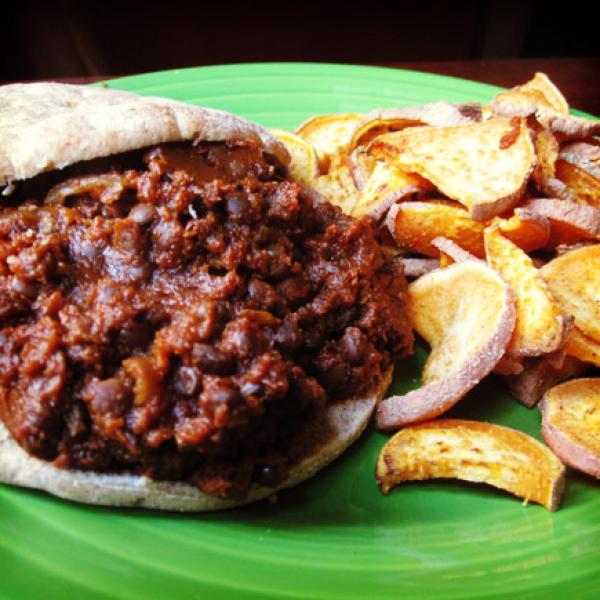 Serves: 4
Ingredients:
1 can (14.5 ounces) organic tomatoes, with liquid, divided
3/4 cup diced onions, divided
1 clove garlic, minced
1 cup chopped carrots
2 cups chopped red, yellow or orange bell peppers
1 tablespoon chili powder (more to taste, if desired)
1 teaspoon paprika
1 tablespoon oregano
Salt
Pepper
1 tablespoon olive oil
1 can (14 ounces) organic lentils, rinsed
1 can (14 ounces) organic low-sodium tomato sauce
Lawry's Seasoned Salt
2 sweet potatoes, thinly sliced
4 whole-grain hamburger buns or bread
Directions:
1. Place 1/4 cup liquid from tomatoes in a pot over medium-high heat. Add 1/2 cup onion, garlic, carrot, and peppers and sauté for 7 to 10 minutes, stirring constantly and adding extra liquid as needed. Add tomatoes, chili powder, paprika, oregano, and salt and pepper to taste, and stir well. Remove mixture from heat and combine in a blender until completely smooth.
2. Sauté remaining onion in olive oil over medium heat until translucent, about 3 minutes. Add lentils, tomato sauce, and blended sauce mixture, and mix well. Season with Lawry's Seasoned Salt. Allow to simmer over low heat for 15 to 20 minutes.
3. To make fries, spread sweet potatoes on a non-stick baking sheet. Lightly salt and broil for 3 to 5 minutes on each side until crispy.
4. Dish lentil mixture onto hamburger buns and serve with sweet potato fries.
Nutrition score per serving: 444 calories, 5g fat (1g saturated), 73g carbs, 27g protein, 35g fiber