Leek, Artichoke, & Lentil Mung Bean Linguine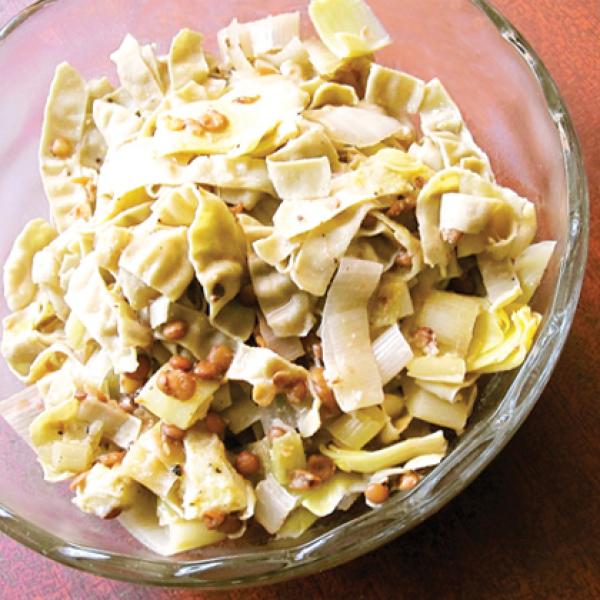 Mung bean linguine is an awesome gluten-free, vegan pasta substitute that delivers 20g protein per 187-calorie serving! The combo of mung bean pasta, lentils, and vegan nutritional yeast makes this delicious dish practically pure protein. Bonus: Cheesy tasting vegan nutritional yeast is a great source for vitamin B12, which is hard to come by in a vegan diet, so sprinkle more on top if you want!
Ingredients (Makes 4 servings):
1 package(7.05oz) of organic mung bean linguine
1 can organic lentils
2 medium leeks, white and light green parts only, cleaned and chopped
1 12oz can or jar of artichoke hearts, rinsed and sliced
Juice of 1 lemon
½ yellow onion, diced
1 garlic clove, diced
½ cup vegan nutritional yeast
Salt and pepper to taste
1 Tbsp vegan margarine
Directions: Melt vegan margarine in a pot on the stove over medium-low heat. Add the garlic, onion, and leeks, and cook until caramelized, about 5 minutes. Add the artichokes and sauté for about 3 minutes, then add the lentils, lemon, salt and pepper. Cover, reduce heat to low, and let simmer for 5-10 minutes. Cook the mung bean linguine al dente per the package instructions and reserve ½ cup pasta water. Transfer the cooked mung bean linguine into the pot with the artichoke, lentil mixture, add the nutritional yeast and reserved pasta water as needed, and mix all together, adding fresh lemon juice to taste. Enjoy!