Eggplant Parmesan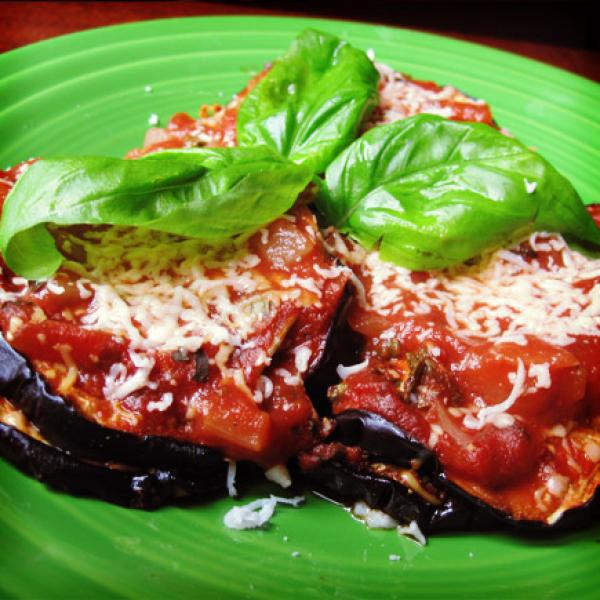 Serves: 3
Ingredients:
1 eggplant, sliced 1/4-inch thick
Sea salt
1 tablespoon olive oil
2 cloves garlic, minced
1/2 cup chopped onion
2 cups tomato purée
1 tablespoon dried oregano
Salt
Pepper
1/2 cup chopped basil, plus 9 leaves for garnish
2 tablespoons nutritional yeast
1/2 cup shredded vegan Parmesan or mozzarella cheese
Directions:
1. Preheat oven to 450 degrees. Sprinkle eggplant with salt and let sit for 20 minutes. Rinse eggplant and dry completely.
2. Meanwhile, coat a large saucepan with oil. Sauté garlic and onion for 7 minutes on medium-high heat. Add tomato purée, oregano, salt and pepper to taste, and chopped basil, and stir together over low heat for 10 minutes.
3. Place rinsed eggplant rounds on a non-stick baking sheet. Dust rounds with nutritional yeast and broil 5 minutes on each side.
4. Spread a thin layer of tomato sauce onto a baking dish. Add a layer of eggplant on top. Top with more sauce and sprinkle with cheese. Repeat until you have 9 eggplant stacks (each stack should have two slices of eggplant) and bake for 20 minutes. Plate 3 eggplant rounds on each plate. Sprinkle with extra cheese and top with basil.
Nutrition score per serving: 174 calories, 10g fat (3g saturated), 16g carbs, 10g protein, 8g fiber