Dill Springtime Macaroni Salad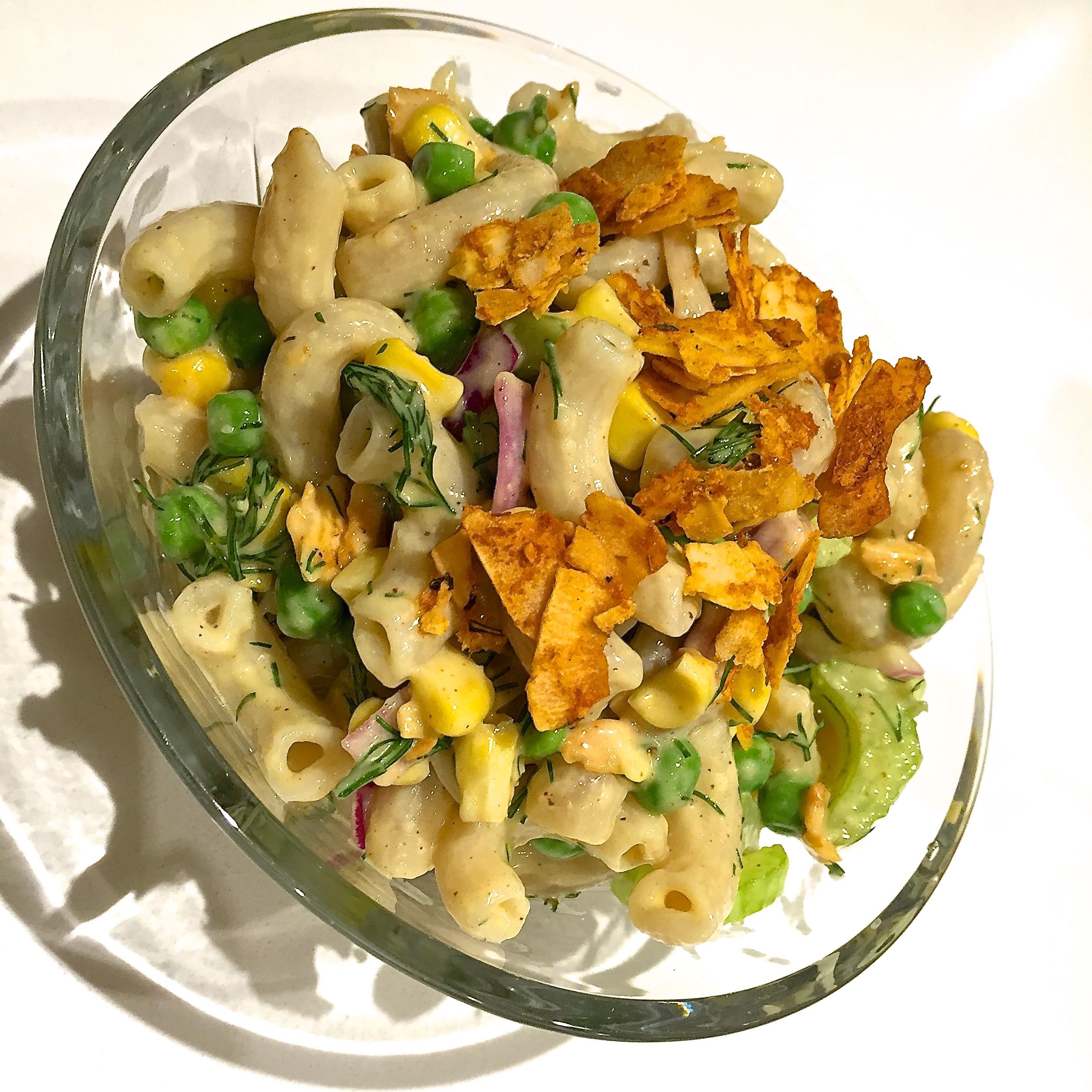 I LOOOVE barbecues and all the delicious food that goes with them!  So, this weekend, when my family was having one, I decided to do a new take on Macaroni salad: add dill, like my dad loves, and make it gluten-free so that my sister-in-law, the host, could eat it.  The result was MAGNIFICENT!  I topped it with homemade coconut bacon, using the recipe from my lovely friend, Liana's The Earth Diet Cookbook.
Serves: 12-20, depending on portion size
Ingredients
2 packages (16 ounces each) brown rice pasta
6 stalks celery, chopped
1 bag (14 ounces) frozen organic peas, thawed
1 bag (14 ounces) frozen organic corn, thawed
1 cup chopped red onion
1 1/2 cup vegan mayonnaise
6 tablespoons almond milk
1/4 cup apple cider vinegar
2 tablespoons mustard
1 teaspoon sugar
1 teaspoon paprika
1 teaspoon garlic powder
2 tablespoons nutritional yeast
1 loose cup chopped fresh dill
Salt
Pepper
Directions:
Cook pasta according to package directions. Drain and rinse with cold water. Set aside. Meanwhile, mix celery, peas, corn, and red onion in a large bowl. In separate bowl, combine mayonnaise, almond milk, vinegar, mustard, sugar, paprika, garlic and nutritional yeast, and whisk until smooth. Combine vegetables and pasta and cover with sauce and dill, mixing until evenly coated, salt and pepper to taste. Refrigerate for 2 hours before serving. Top with coconut bacon.