Corn Soup with Roasted Red Pepper Coulis and Cilantro Sauce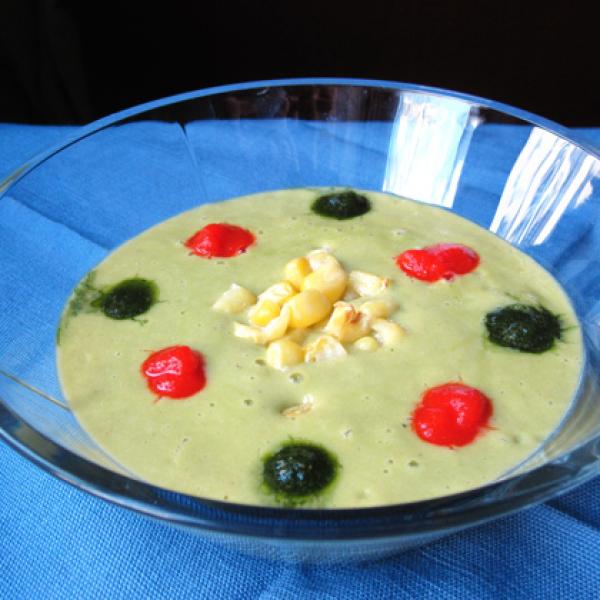 Serves: 2
Ingredients:
1 medium red pepper
Salt
1/2 cup water (divided)
1 cup cilantro
2 cups fresh or frozen corn kernels (plus more for garnish)
1/4 cup chopped onion
1/3 cup unsweetened almond milk
1/2 teaspoon cumin
1/4 teaspoon cayenne pepper
Pepper
Directions:
1. Preheat oven to 350 degrees. Seed and slice red pepper. Place on roasting pan, lightly salt, and bake 30 minutes. Remove from the oven and place in a blender with 1/4 cup water. Blend on high for 1 minute until pureed, scraping sides of blender as needed. Set aside red pepper mixture and clean blender.
2. Place cilantro in a blender with remaining water and blend until smooth, about 30 to 45 seconds. Pour cilantro sauce out of the blender into a bowl but don't scrape the blender so some cilantro mixture still remains in it. Set aside.
3. Place corn, onion, almond milk, cumin, cayenne, and salt and pepper to taste in the blender and blend on high until smooth, about 1 minute. Pour soup into two bowls and dot with red pepper coulis and cilantro sauce. Garnish with corn kernels and serve.
Nutrition score per serving: 121 calories, 2g fat (1g saturated), 8g carbs, 2g protein, 3g fiber