Carrot Muffins with Maple Cream Cheese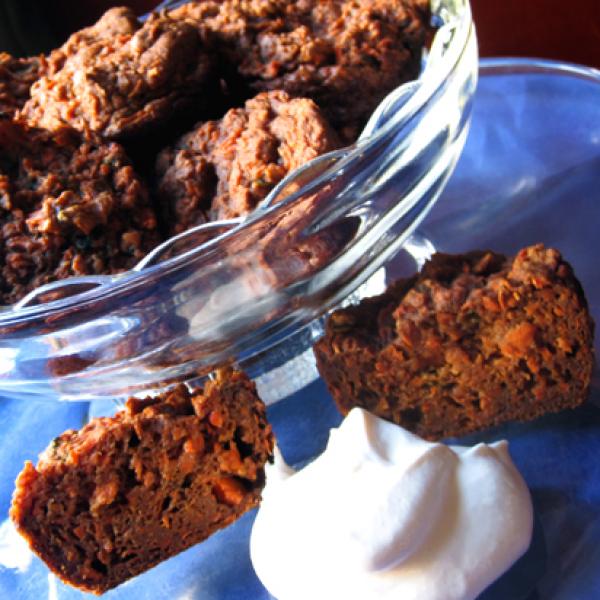 Serves: 6 to 12
Ingredients:
Muffins: 
2 tablespoons flaxseed meal
6 tablespoons water
1 cup sugar
1/2 cup unsweetened applesauce
1 cup flour
1 teaspoon baking soda
1/2 teaspoon cinnamon
1/2 teaspoon ginger
1/4 teaspoon salt
2 cups shredded carrots
1/2 cup chopped pecans, optional
1/2 cup raisins, optional
Maple Cream Cheese: 
1 (8-ounce) package vegan cream cheese, cold
1/4 cup vegan margarine, cold
1/4 cup maple syrup
1 teaspoon vanilla extract
Directions: 
1. Preheat the oven to 400 degrees and line a cupcake tin with wrappers or oil the tin well.
2. Mix flaxseed and water well, then beat with sugar and applesauce in a large bowl with an electric mixer until well combined. Add flour, baking soda, cinnamon, ginger, and salt and beat. When well blended, stir in carrots and, if desired, pecans and raisins.
3. Spoon batter into cupcake tin and bake for 25 to 30 minutes, until golden brown on the edges. Remove from the oven and let cool on a rack for 15 minutes. Remove muffins from the tin and let cool on rack completely.
4. Beat cream cheese and margarine in a large bowl until smooth. Add maple syrup and vanilla and beat again until smooth. If spread isn't sweet enough for your liking, add up to 1/2 cup sweetener of choice and beat until smooth. Refrigerate for 1 hour.
5. Serve muffins with cream cheese spread on the side.