Black Bean-Stuffed Plantain Empanadas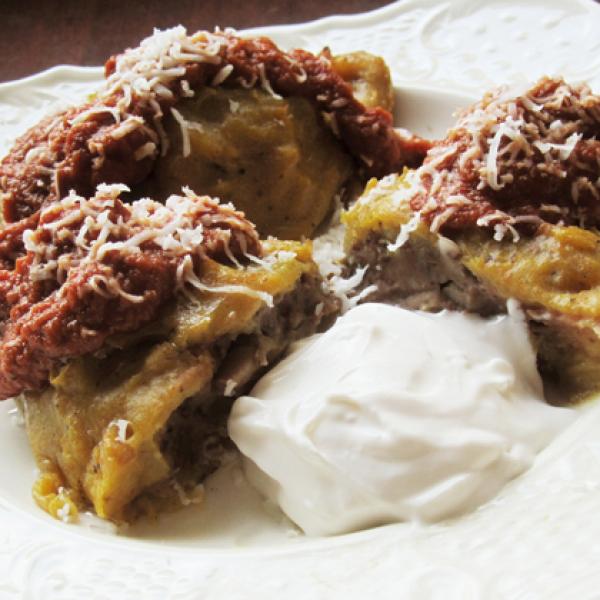 My two favorite Mexican foods—plantains and black beans—in one delicious dish! While these also take some time, it's worth it. Makes 6 empanadas
Ingredients:
3 ripe plantains
2-3 tbsp onions, chopped
1 clove garlic, minced
1 can black beans, rinsed
Salt and pepper to taste
Cornmeal flour
Vegan cheese, to serve (optional)
Vegan sour cream, to serve (optional)
Sauce:
1 tsp olive oil (or more if desired)
1-2 cloves garlic, minced
1/4 cup diced onion
4 ripe tomatoes, diced, with juice
2-3 tbsp basil, chopped
Salt and pepper, to taste
Directions: 
1. Pre-heat oven to 375. Cut off ends of plantains, slit the peel lengthwise, and place on a baking sheet. Bake for 40 to 45 minutes, until tender. Once cool, remove peel and mash.
2. For the filling, heat a pan over medium heat and lightly coat with oil. Add onions, and sauté, stirring frequently until slightly translucent. Add garlic and stir frequently for another two minutes. Then add beans, salt, and pepper, and mix. After about a minute, mash the beans with a large fork, leaving some chunks. Remove from heat and let cool.
3. Lightly coat a baking sheet with oil. Using any flour of your choice (I prefer cornmeal flour to keep this gluten-free), coat your hands and then divide the plantain mixture into six equal-sized balls. Flatten the balls like dough onto the baking sheet, recoating your hands with flour as needed. Place a large spoonful of the bean mixture on top of each plantain circle. Fold the rest of the plantain "dough" over the beans and seal the empanada with your fingers. Bake empanadas for 20 minutes.
4. Meanwhile, add olive oil for sauce to a small pot over medium heat and sauté garlic and onions for about 5 minutes, until onions are translucent. Add tomatoes with juice, basil, salt, and pepper, reduce heat to low, and stir frequently for another five minutes. Blend with an immersion blender or by transferring to a food processor.
5. To serve, place one or two empanadas on a plate and lightly cover with sauce and vegan cheese and sour cream, if desired.