Banana Coffee Cake with Chocolate Chip, Cinnamon, and Pecan Streusel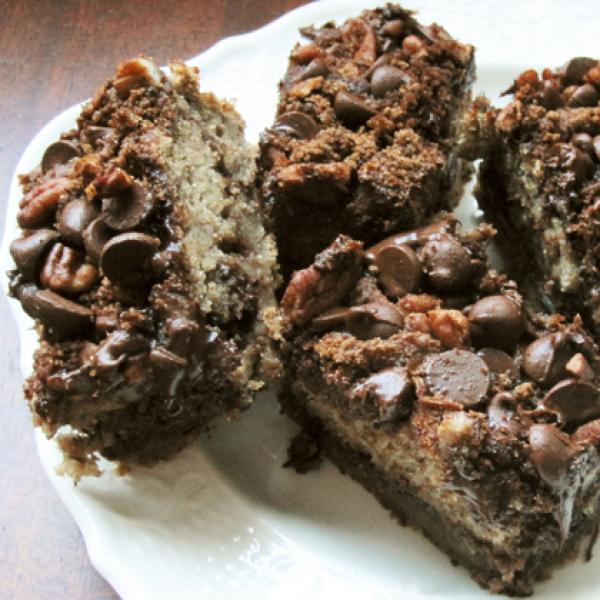 I have yet to meet anyone who doesn't fall head-over-heels in love at first taste with this brunch dish. This can also easily be made into muffins. Serves 12 to 16
Ingredients:
Streusel:
1 1/4 cups vegan dark chocolate chips or chunks
1/3 cups organic vegan brown sugar (sub coconut sugar if preferred)
1/2 cup chopped pecans or walnuts
1 1/2 Tbsp cinnamon
Batter:
3 Tbsp unsweetened applesauce
1 Tbsp flaxseed meal
1/3 cup coconut sugar
1/2 cup coconut oil
1 1/3 cups very ripe mashed bananas
3 Tbsp unsweetened vanilla almond milk
1 1/2 cups spelt flour (or gluten-free flour)
3/4 tsp baking soda
3/4 tsp baking powder
Pinch salt
Directions: 
1. Preheat oven to 350 and lightly coat an 8 x 8-inch baking pan with margarine and flour.
2. Mix streusel ingredients in small bowl and set side.
3. Mix applesauce with flaxseed meal and set aside.
4. Using a mixer, mix sugar, coconut oil, and applesauce mixture in large bowl until fluffy. Add mashed bananas and almond milk, and blend. Slowly add flour, baking soda, baking powder, and salt, and mix until smooth.
5. Spread half the batter into the prepared baking pan, cover with half the streusel, then cover that with remaining batter, and top with remaining streusel.
6. Bake for 45 minutes or until a toothpick comes out clean when placed in center of cake.
7. Allow to cool over night and serve in the morning.