YG Pink Party – Benefiting Breast Cancer Awareness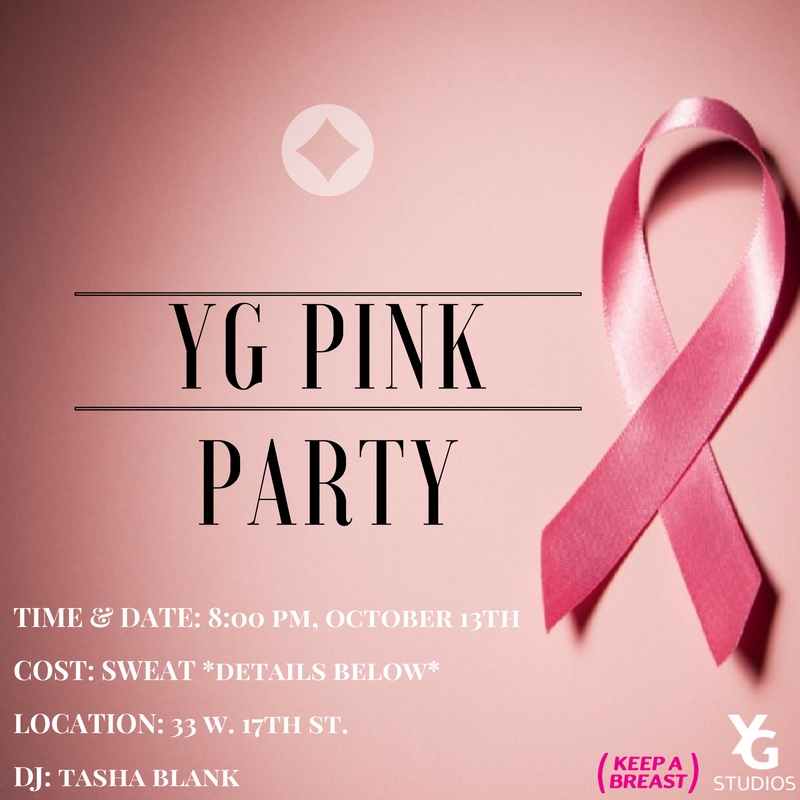 On Thursday, October 13, YG Studios is partnering with Keep a Breast Foundation to host a Pink Party in support of breast cancer education and awareness. The event will bring together New York City's top fitness consumers and instructors for a hip hop dance party, featuring music from DJ Tasha Blank.
As fitness plays an important role in health and wellness, YG Studios is using "sweat equity" as the means of raising money for the event. The "ticket" to entry is purchase of a two-pack of YG classes, equivalent to $56. AND YOU GET TO USE THE CLASSES, TOO!!! This allows all attendees to prioritize their own well-being while giving back to a greater cause.
The event will feature a silent auction and raffle to raise additional funds for Keep a Breast Foundation.
SIGN UP HERE!!!
About YG Studios:
YG Studios is an innovative fitness platform providing consumers with the best of fitness experiences by bringing empowerment back to trainers and giving them the ability to harness their distinctive workouts, without the boundaries of the boutique studio model. YG fosters relationships building amongst class attendees through a dedicated social network, creating a robust community of fitness enthusiasts interested in giving back to the greater good.
About Keep a Breast Foundation
The Keep a Breast Foundation™ is a nonprofit organization with a mission to empower young people around the world with breast health education and support. Since its inception in 2000, KAB has worked with young people to remove the shame associated with breasts and breast cancer health. Through various initiatives such as breast cast art exhibitions, the "Non Toxic Revolution" and " I love boobies!" campaign, KAB has opened up the dialog about Breast cancer, and has proven to be a doorway to breast self-awareness and education.
See you there!
Xo,
Heidi