Fly Over Your Fears! Workshop in NYC!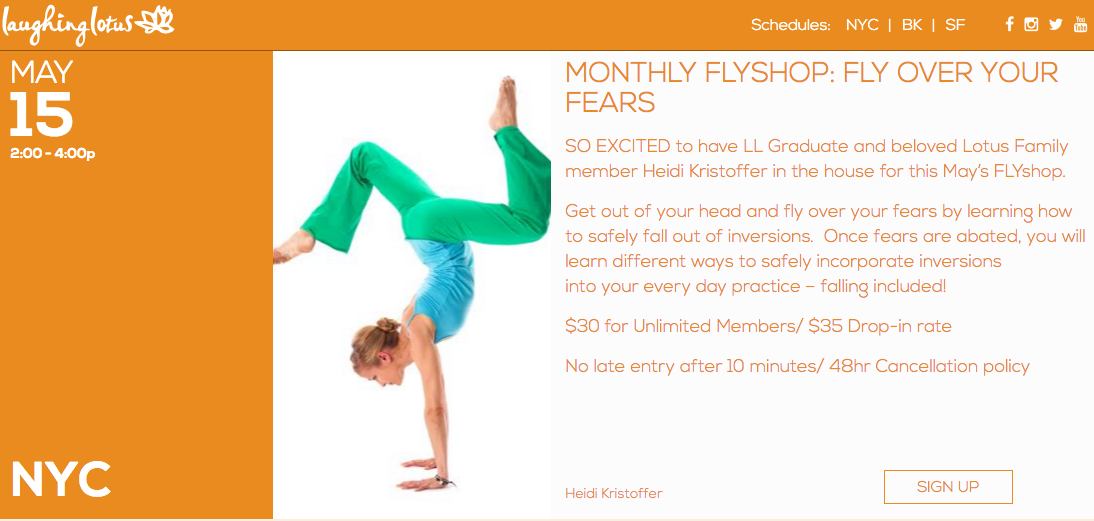 OMG you guys!!!!!!!! I am SO honored and EXCITED to be going back to my roots at Laughing Lotus Yoga NY and teaching the May FLYshop!  I am doing my fave: "Fly Over Your Fears" – which is where you learn how to fall SAFELY out of inversions, so you can get out of your head and into inversions! Come play Sunday, May 15th!!!
When: Sunday May 15th, 2-4pm EST
Where: Laughing Lotus NYC
Description:  What is the scariest part of inversions?  The fear of falling.  In this workshop, we will learn how to safely fall out of inversions into backbends and cartwheels.  When the worst that can happen is a controlled fall, there is nothing to be afraid of; we can invert to our hearts content! This workshop is meant for any one with a sense of adventure – beginners and yoga junkies alike!
We will start by warming up our bodies, especially our core – front and back.  Then we will break down different ways to come into and fall out of handstands and forearm stands – first at the wall and then with partners.  Once fears are abated, you will learn different ways to safely incorporate inversions into your every day practice – falling included!
This workshop will teach you how to make inversions just another pose or transition– nothing to sweat about, and certainly nothing to be afraid of!
636 6th Avenue, 3rd Floor (entrance on 19th street)